Headless Horseman Animatronics
1 - 2 of 2
---
Discover the eerie allure of the Headless Horseman Animatronics collection. From galloping nightmares to hauntingly realistic props, bring the legend to life this Halloween. Perfect for haunted houses and spooky displays, these animatronics will leave your guests trembling with fear. Unleash the terror of the Headless Horseman and create an unforgettable experience.
read more
read less
Main Content
Video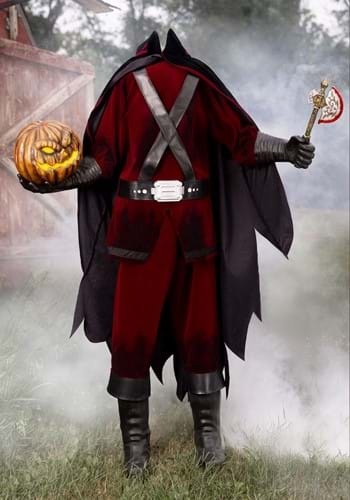 Video
---
Welcome to our Headless Horseman Animatronics category, where the spooky legend comes to life! Prepare to be amazed and terrified as you explore our collection of animatronic figures inspired by the infamous Headless Horseman.
Step into the world of Sleepy Hollow and witness the chilling presence of the Headless Horseman right in your own home. Our animatronics capture the essence of this iconic character, with lifelike movements and spine-tingling details that are sure to send shivers down your spine.
Whether you're hosting a haunted house party or looking to add a frightful touch to your Halloween decorations, our Headless Horseman animatronics are the perfect choice. These realistic figures are designed to create a truly immersive experience, leaving your guests in awe and fear.
Picture this: as your guests approach, the Headless Horseman rises from the shadows, brandishing his menacing sword and emitting bone-chilling sounds. The atmosphere becomes electrifying as his eyes glow with an eerie light, and his headless body moves with an otherworldly grace. It's a scene straight out of a horror movie!
Our Headless Horseman animatronics are crafted with meticulous attention to detail, ensuring that every aspect of the legendary character is faithfully recreated. From the tattered cloak to the ghastly pumpkin head, these animatronics will transport you to the haunted realm of Sleepy Hollow.
Not only do our animatronics deliver a spine-chilling experience, but they are also built to last. Made with high-quality materials, these figures are durable and designed to withstand the test of time, ensuring that you can enjoy the frights year after year.
Whether you're a Halloween enthusiast or simply love the thrill of a good scare, our Headless Horseman animatronics are a must-have addition to your collection. These captivating figures are sure to become the centerpiece of your Halloween display, captivating and terrifying all who dare to cross their path.
So, what are you waiting for? Dive into our Headless Horseman Animatronics category and choose the perfect animatronic figure to bring the legend to life. Get ready to create a Halloween experience like no other and leave your guests trembling with fear. Don't miss out on this opportunity to own a piece of Sleepy Hollow's darkest tale. Shop now and prepare for a Halloween you'll never forget!