Coco Halloween Costumes
1 - 3 of 3
---
Get ready to spook-tacularly transform yourself with our Coco Costumes collection! From vibrant skeleton suits to Dia de los Muertos-inspired ensembles, we have everything you need to embrace the Halloween spirit. Explore our range now and become the life of the afterlife party!
read more
read less
Main Content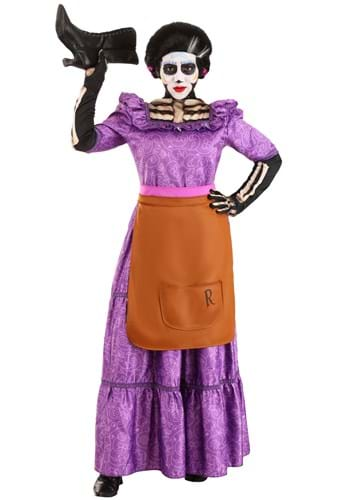 Video
---
Get ready to celebrate the Day of the Dead in style with our enchanting Coco Costumes collection! Inspired by the vibrant and heartwarming Disney-Pixar film, our Coco Costumes will transport you to the magical world of the Land of the Dead. Whether you're attending a Halloween party, a themed event, or just want to embrace the spirit of this beloved movie, we have the perfect costumes to help you bring your favorite characters to life.
Step into the shoes of the charming Miguel with our Miguel Costume. Designed with attention to detail, this costume captures the essence of Miguel's adventurous spirit. Complete with a colorful jacket, pants, and a guitar, you'll feel ready to embark on your own musical journey.
If you're more drawn to the enchanting spirit of Mama Imelda, our Mama Imelda Costume is just what you need. With its elegant dress, hat, and vibrant accessories, you'll embody the strength and grace of this iconic character. Get ready to lead your family with pride and honor!
For those who want to channel the mischievous spirit of Hector, our Hector Costume is the perfect choice. This costume features a stylish jacket, pants, and a hat, allowing you to embrace Hector's playful and adventurous personality. Get ready to embark on a memorable adventure in the Land of the Dead!
And of course, we haven't forgotten about the adorable and lovable Dante. Our Dante Costume will transform you into this loyal and goofy canine companion. With its jumpsuit and headpiece, you'll capture Dante's unique charm and bring joy to everyone around you.
Whether you're looking for an individual costume or want to dress up as a group, our Coco Costumes collection has something for everyone. Explore our wide range of sizes and styles to find the perfect fit for you and your loved ones. You'll be sure to turn heads and create unforgettable memories as you celebrate the magic of Coco.
Don't forget to complete your Coco-inspired look with our selection of accessories, including face paint, hats, and musical instruments. These finishing touches will add an extra layer of authenticity to your costume and make you truly feel like you're a part of the Land of the Dead.
At Halloween.com, we pride ourselves on providing high-quality costumes that will withstand the test of time. Our Coco Costumes are no exception. Made with attention to detail and designed for comfort, these costumes will not only make you look amazing but also ensure that you can enjoy your celebration to the fullest.
So, what are you waiting for? Dive into the enchanting world of Coco with our exquisite Coco Costumes collection. Let your imagination run wild and embrace the magic of the Day of the Dead like never before. Shop now and get ready for an unforgettable Halloween experience!