Back to the Future Shoes
1 - 2 of 2
---
Get ready to step into the future with our Back to the Future Shoes. These futuristic kicks will transport you to the Halloween party in style. From sleek metallic finishes to LED lights, our collection is sure to make a statement. Don't miss out on these cutting-edge shoes that will have you looking like a true time traveler.
read more
read less
Main Content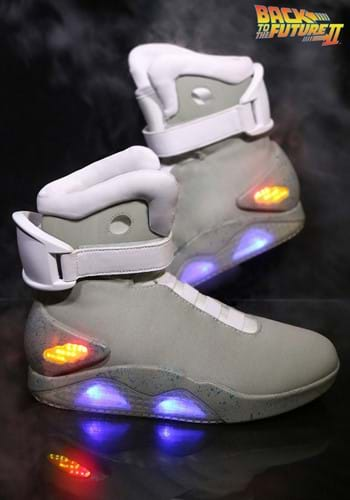 Video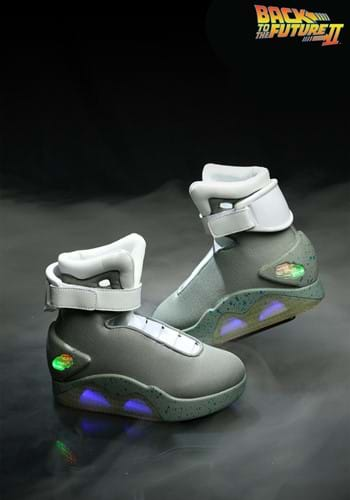 Video
---
Welcome to our Back to the Future Shoes category, where you'll find the most iconic footwear from the beloved movie trilogy. Step into the future and relive the magic of Marty McFly's time-traveling adventures with our collection of stylish and nostalgic shoes.
Transport yourself back to the 80s with our authentic replica shoes inspired by the original designs featured in the Back to the Future films. These shoes are not just ordinary footwear, they are a time capsule that captures the essence of a bygone era. Slip into a pair of these retro kicks and instantly feel the excitement of traveling through time.
Our Back to the Future Shoes category offers a variety of options to suit every fan's preferences. From the classic high-top sneakers worn by Marty in the first film to the futuristic self-lacing shoes from the second installment, we have it all. Each pair is meticulously crafted to replicate the look and feel of the shoes seen on the big screen.
Whether you're planning to wear them for a Halloween costume, a themed party, or simply to show off your love for the movies, our Back to the Future Shoes are guaranteed to turn heads and spark conversations. These shoes are not just for fans, they are a statement piece that celebrates the enduring popularity of the franchise.
Designed with comfort and durability in mind, our Back to the Future Shoes are made from high-quality materials to ensure a comfortable fit that lasts. You can strut your stuff with confidence, knowing that you have the coolest shoes in any room.
In addition to their nostalgic appeal, our Back to the Future Shoes also make for fantastic collectibles. Whether you're a die-hard fan or a casual admirer of the films, owning a pair of these iconic shoes is a must-have for any Back to the Future enthusiast. Display them proudly on your shelf or wear them with pride, these shoes are a true symbol of fandom.
So, what are you waiting for? Step into the future and complete your Back to the Future costume or collection with our incredible selection of shoes. Get ready to make a statement and embark on your own time-traveling adventure. Shop now and let your love for the movies shine through your footwear!