Beetlejuice Makeup
1 - 3 of 3
---
Unleash your inner ghoul with our Beetlejuice Makeup collection. Transform into the iconic character with our eerie selection of face paints, prosthetics, and accessories. Whether you're attending a Halloween party or just want to spook up your look, our Beetlejuice Makeup will give you the perfect creepy touch. Get ready to haunt the night!
read more
read less
Main Content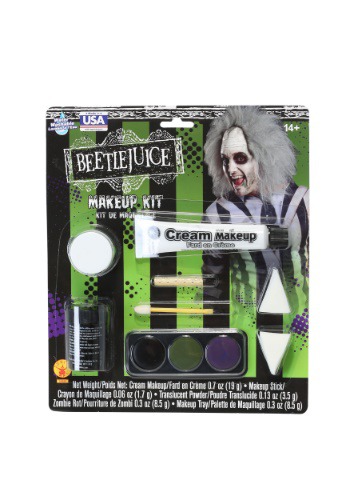 Out of Stock
---
Welcome to our Beetlejuice Makeup category, where you can unleash your inner ghostly spirit and transform into the mischievous character from the iconic movie. Whether you're attending a Halloween party, cosplay event, or just want to add a spooky touch to your everyday look, our Beetlejuice Makeup collection has everything you need to create a hauntingly beautiful appearance.
With our high-quality makeup products, you can effortlessly recreate Beetlejuice's signature pale and ghostly complexion. Start by applying our specially formulated foundation that will give your skin that eerie, otherworldly glow. Then, use our ghostly white face powder to set the base and achieve a seamless finish. Don't forget to add some dramatic contouring with our contour palette to bring out those ghostly features.
To capture Beetlejuice's mesmerizing eyes, we offer a variety of eyeshadow palettes that feature a range of eerie and vibrant colors. From bold greens to haunting purples, these shades will help you achieve the perfect look for any Beetlejuice-inspired ensemble. Complete your eye makeup with our long-lasting mascara and eyeliner to add depth and intensity to your gaze.
No Beetlejuice transformation would be complete without the iconic black and white striped eyebrows. Our eyebrow kits include easy-to-use stencils and high-quality eyebrow powders, allowing you to recreate Beetlejuice's distinctive brows with precision. These brows are sure to make a statement and add an extra touch of character to your overall look.
And let's not forget about the lips! Our Beetlejuice Makeup collection offers a range of lip products, from bold black lipsticks to eerie green and purple lip glosses. Choose your favorite shade to add a pop of color or a spooky touch to your lips, completing your Beetlejuice transformation.
Whether you're a makeup novice or a seasoned pro, our Beetlejuice Makeup collection has everything you need to bring this beloved character to life. Our products are not only high-quality but also easy to use, making them perfect for anyone looking to embrace their inner ghostly spirit this Halloween.
So, don't wait any longer! Explore our Beetlejuice Makeup category and get ready to create a hauntingly beautiful look that will turn heads and leave a lasting impression. Unleash your inner Beetlejuice and let the Halloween fun begin!