Darth Maul Accessories
1 - 3 of 3
---
Complete your Sith Lord look with our exclusive collection of Darth Maul accessories. From menacing face tattoos to double-bladed lightsaber replicas, unleash your inner dark side this Halloween. Explore our wide range of Darth Maul Accessories now.
read more
read less
Main Content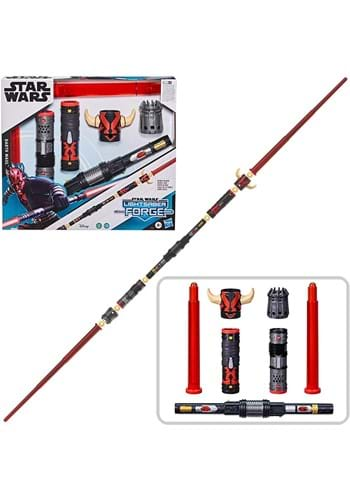 Out of Stock
---
Welcome to our Darth Maul Accessories category, where you can find everything you need to complete your Sith Lord transformation this Halloween! Whether you're a die-hard Star Wars fan or just looking for a wickedly awesome Halloween costume, we've got you covered.
Step into the dark side with our collection of Darth Maul accessories. From his iconic double-bladed lightsaber to his menacing face tattoos, we have all the essentials to help you channel the power of the Sith. Our accessories are officially licensed and designed to bring your Darth Maul costume to life with authenticity and attention to detail.
First and foremost, let's talk about the centerpiece of any Darth Maul costume – the lightsaber. Our selection includes a variety of lightsabers inspired by the one wielded by Darth Maul himself. Whether you prefer a traditional red blade or want to add a unique twist with a color-changing lightsaber, we have options to suit every Sith Lord's taste.
To truly embody the fearsome Darth Maul, don't forget to add his distinctive facial tattoos. Our collection features high-quality temporary tattoos that perfectly replicate the intricate designs seen on the character. Just apply them to your face and instantly transform into the menacing Sith Lord.
No Darth Maul costume is complete without his signature cloak. Our assortment includes replica cloaks made from premium materials, ensuring you look as menacing as possible while maintaining comfort throughout the night. Whether you're attending a Halloween party or a Star Wars convention, our cloaks will make you stand out from the crowd.
For those looking to take their costume to the next level, we offer additional accessories such as gloves, belts, and boots. These details may seem small, but they make a big difference in achieving an authentic Darth Maul look. Our accessories are designed to complement each other and enhance your overall costume.
Whether you're planning to unleash your dark side at a Halloween party or simply want to add a touch of Star Wars magic to your everyday life, our Darth Maul Accessories category has everything you need. Explore our collection and let your inner Sith Lord shine through this Halloween season.
Remember, the force is strong with our Darth Maul Accessories, so don't wait until it's too late. Order now and embrace the power of the dark side! May the Halloween spirit be with you.